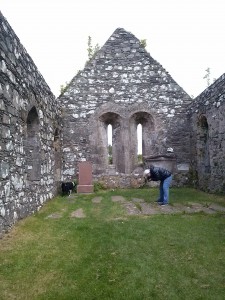 Essay: 'A Roof Over My Head' in TEXT 2016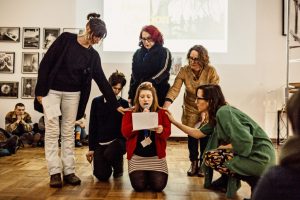 content work produce form: a collaborative poetry project
A New Year's Feast
It started with a ferry trip from Glasgow to Islay – the island I learned to say by letting the s slip to the top of my mouth like a champagne bubble. Like island. Islay. Anyway, we three travelled on the ferry to Islay and stayed at a white-washed out of the way place despite the well and its wooden eyelid and having to watch the wee one like a hawk. It was New Year's Eve and my husband went to church late at night while the baby and I slept in the loft bed. The stained glass window deeply red and green above us. I woke to the bells of Big Ben chiming out the end of the year. And Roland, our host, inviting me down from the loft for the best meal I would ever eat. Seawater trout caught by an ex-monk who slipped it in sometime that day and fresh vegetables lugged from island soil. We hunkered, really hunkered down under the low dark roof and ate the fish we two under a tablecloth-sized piece of soft light and how it did look and taste and smell! The plate conversed with knife and fork. Everything talked. When he came home my husband was agitated. I told you to leave her to sleep he said to Roland. As though he could change history by saying what he'd wanted.
How to live by the sea
Be like the terns crouched on the shore.
Still under an empty sky.
Stake your life on warnings.
The gulls will circle, shrieking, before rain.
Keep one craft at hand.
A kayak out back among nasturtiums.
Walk lightly.
The grey heron will haunt your letterbox.
Cultivate patience.
The orca may pass by here again.
Settle for disorder.
All summer you will swim before you wake.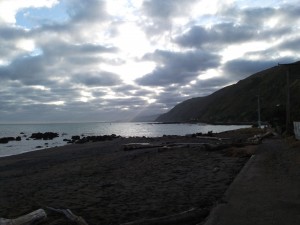 Leaving the Is-land – an essay
'If self is a location, so is love'
                        Seamus Heaney from 'The Aerodrome', District and Circle
For over two years now, my mother has been suffering from Alzheimer's disease. Alzheimer's doesn't take the whole person – that in some ways would be kinder. It takes a scoop out of the mind's landscape, then another scoop somewhere else. What is left is, for a while at least, intact, and lonely for the rest.
Junot Diaz, talking about why he didn't translate the Spanish passages or explain the references to Galactus the planet-eater in The Brief Wondrous Life of Oscar Wao, said, "There's always a space in every immigrant's life which is reserved for what you don't understand." He wanted all his readers to share, "…in one place or another, this moment of unintelligibility."
I'm not implying that the dementia sufferer and the immigrant share the same experience of this space or absence – one is an understanding that can't be imagined and the other is an understanding that can't be remembered.  My mother started off by knowing her life, its landscape and language, intimately. But with each flunked memory she is stranded further and further from home.
When Mum finally had to go into a dementia ward, I had just shifted from the Kapiti Coast to Nelson to begin a new position teaching creative writing at the Nelson Marlborough Institute of Technology. Although we had looked at dementia units before I left, when the time came my sisters had to choose the best room and set it up. They chose a sunny room with cream and goldy-yellow walls and a full, leafy tree outside the window. In a Laurel and Hardy moment, they decided that the king single bed in the empty room across the hall looked much better than the bed already in Mum's room, so while one kept watch for nurses or patients the other swapped the beds over and pretended innocence when the nurses looked at Mum's bed in a puzzled fashion.
A few days into Mum's residency, one of my sister's asked her 'How do you feel?' and she answered, 'With difficulty'. Like someone speaking a foreign language, she misses the mark sometimes. And in missing the usual mark, she may hit a more interesting one.
I remember the last really lucid thing my mother said to me. It was in my previous house when my daughter still lived at home. I was in bed with a cold and Mum and Dad called in. I was feeling pretty bad and didn't get up. They stood at the end of my bed looking at me and Mum said, 'You look feverish'. That was Mum knowing her stuff and telling it like it was. Because Mum had said I looked feverish I felt kind of noticed and looked after, not to mention validated in spending a day or two in bed. I asked my daughter to bring me soup.
Kathleen Jamie, in an essay called 'Sabbath' in her book Findings, writes about that phase of life when children, a demanding job and aging parents seem to absorb all of your time.  She writes that a friend said to her, '…we spend so much time dealing with it all, there is scarcely time to feel.' I've just finished the first term of a new teaching job in a new city in a different Island. In that term I've been home twice to visit Mum and help settle her in, spend time with Dad, and catch up with my daughter who was back in Wellington for an Old Crow Medicine Show concert. My sisters and I could have had the exact same conversation about hardly having time to feel. And our Mum is only feeling with difficulty. Hard times.
In my last class before the Easter break, we'd discussed the importance of place in fiction, and how place is never neutral. One of the students, an older guy, said that whenever he hitches into a town with no money in his pocket, the experience of the place is richer, more complex and alive. When he goes to a place in a car, with money to spend, it's easier, more fun, he's cock-a-hoop, but the place seems less interesting. I think negotiation is necessary when you approach a place with nothing in your pocket. Your focus is wider. The town has a sentient feel. You notice how it has been put together. You notice its purpose and its pace. In some ways you feel more grounded, more in place. You are cognizant of possibilities; a relationship is happening. I don't say this to romanticize poverty or encourage hitching, it's more about taking it slowly and letting things unfold.
On the Saturday between Good Friday and Easter Sunday, I drove over the Takaka Hill to Golden Bay instead of flying back to Wellington to see Mum again. I decided to take time out and breathe for a bit. Find my feet. Have time to feel. When I drove over the 'Marble Mountain', which filters the clearest water in the world, and drove down into the long green valley flanked with mountains on either side, I felt that I had made an appointment with myself. I had called myself up. I booked into a sweet, laid back backpackers and sat on the bed and wrote this piece.
Down at the sea, I walked across the rippled sand with shallow aprons of water pooling in them and in the water were translucent fish that scattered at each footstep. I thought with pleasure of my kids and their interesting lives. Then I thought about me in this new place and tried to imagine this top-of-the-south landscape as home.
So that was all I wanted to write about my mother and leaving and arriving and being busy and having time to feel. But, on day two of my break in Golden Bay I got a text from my son, Elliot, asking me to call because he'd had some really bad news. His father had paddled his canoe out to sea from St Ninian's Isle in Shetland, where he'd been living for the past ten years, and hadn't returned. When I heard this news I bolted from the café I was in, leaving my lunch untouched, drove to the backpackers – in my panic losing my way and having to double back – grabbed my bag and left money for my stay on the table as no one was about. I drove back up the big, wide valley and over the Takaka Hill, this time seeing nothing but impediments and shadows that made me start. I got to Nelson, booked a flight to Wellington for the next morning and waited for the night to be over so I could be home.
My daughter came down from Whangarei, and we were together again, looking after each other.
Elliot's father didn't come back and, at the time of writing this, his body hasn't been found. In the days we spent together, I thought about how much I love the presence of my children. Good times or bad, I just love being in the same room as them. And I thought about how busy and sad and ridiculously difficult life often is. And then I tried to think the next thing, and got stuck. And I was only feeling with difficulty. So I wondered if there was a third possibility. Perhaps it is Junot Diaz's space for things we will never understand. Perhaps it is Heaney's '…space utterly empty,/ utterly a source, like the idea of sound;'.[1]
A week later, having farewelled Elliot's Dad at a gathering at Pukerua Bay beach one perfect southerly night, I caught a small plane – like a car with wings – back over the Cook Strait and low over the Sounds to this new place in the South Island.
[1] from the third in the series of 'Station Island' poems at the centre of his book, Station Island